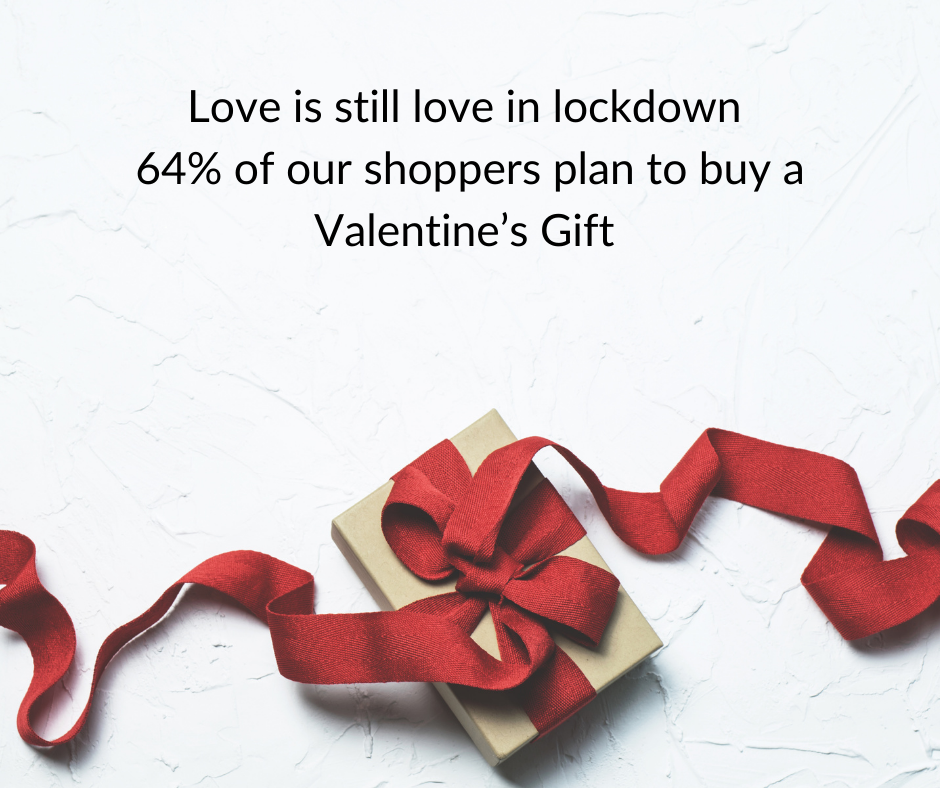 Love is still love in Lockdown! What our shoppers have to say.
With the UK heading into a Virtual Valentine's Day, how are Covid Couples planning to celebrate in Lockdown?
Previous Valentine's Days, we used our imaginations to create romantic gestures throughout the day. From candlelit dinners, Couples' massages to Cocktails in a swanky bar. This year, things are different, the coronavirus pandemic, means many of us are spending Valentine's Day at home.
Whether you're celebrating with your special someone, your Galentines, or your entire family, last weekend we asked our shoppers how were planning to celebrate the season of love.
We are embracing Valentine's Day and will probably celebrate it over a week including gifts for the children. An extra indulgence as it is the opportunity to celebrate and liven up our routine.
They told us *Love is still love in lockdown": more than half 62% of our shoppers plan to buy Valentine's Gift, and a third are buying a Valentine's Gift for the first time.
These romantics are spending between £10-£50 on gifting, more than last year.
Chocolates and cards are gifts most likely to be chosen along with "Special meal in". This year to celebrate Love in lockdown nearly half of our Shoppers said they will be taking to their kitchens to create special meals and experiences at home, a significant increase on last year.
"Nice meal in and watch a film try make it as special as possible flowers wine chocs etc"
"Treat myself to good meal and wine and FaceTime my girlfriend"
But Chocolate is still the way to everyone's heart, and 11% said they would be buying more chocolate than last year. The favourites offer gift wrap, and brands like Cadburys, Lindt, Thorntons, and Ferrero Rocher are most likely to be chosen.
Despite the increase in online shopping and shopping restrictions, the main source of inspiration will be In-Store
And 90% of people will be choosing what to buy in the next two weeks, so now is the time to discover how well your brands are capturing Shopper's attention instore.
National Valentine Instore Shopper Programme
To give you the answers, we'd like to invite you to participate in our national Valentine's instore shopper programme. Over the next two weeks, we will be asking shoppers which brands are grabbing their attention and why?
And to share the love in lockdown, we're offering a Valentine's Day discount, from £20 a store visit.
Robin@fieldagent.co.uk
07803 610684
shopper insights, Research Results, Chocolate Insights