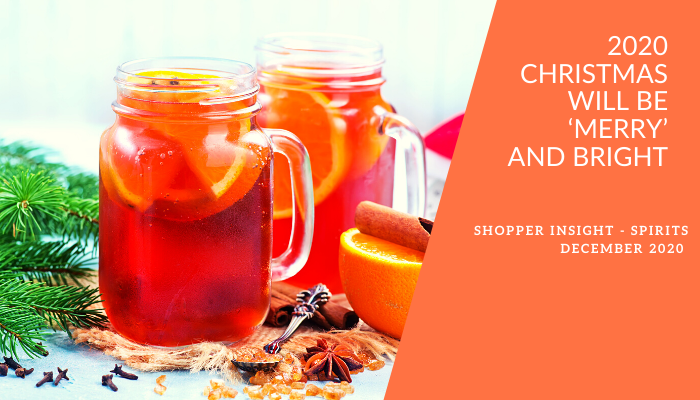 2020 Christmas will be 'Merry' and Bright
Though not many people know what they'll be doing on Christmas Day this year, that doesn't mean consumers are leaving their festive planning until the last minute. The opposite seems to be true. Last weekend 500 of our shoppers told us what SPIRITS they are planning to buy and why.
Here are the key things they told us headlines:-
Despite restrictions on Christmas parties, 64% will be buying Spirits for a gathering/party, spend more than at other times of the year and trading up to "Premium brands."
Gin will be the drink of choice:26% claim they will buy more Standard and Craft than last year.
Gordons has the edge, but Shoppers will buy a variety of brands.
46% of Spirits Shoppers Trade up to Premium brands during Xmas.
Overall, the key driver in product choice will be flavour (63%), followed by Price and
A significant number (66%) plan to buy online, 17% more likely than last year.
Most will buy in Supermarkets and decide what to buy in Store (70%)
What will happen when Shoppers go in Store?
This week we are asking Shoppers to report on their Shopping Experience in store:
150 store visits with videos 50 shoppers in Asda, Sainsbury' and Aldi (or stores of your choice) will be telling us what they are buying and why.
We'd like to include your questions at a special discounted rate of £10 a store visit. Simply click on the link below to get started.
It's going to be a very different sort of Christmas season, but still a special one for millions of people buying gifts and connecting with loved ones. We can tell you how they are shopping.
Our Shoppers can safely gather Insights in-store via their Smartphone. Survey results are on your dashboards within days. Faster, Cheaper, Smarter.
Shopper Insight will be a crucial factor as we move into the New Normal of 2021, understanding the concerns and plans of customers will be vital to businesses. Now is a great time to get started.